During the weekend of June 24-25, just 5 1/2 weeks after my life-changing thyroidectomy surgery, I was honored to be invited to serve as crew for Ben and Kelly at the Catalina 25 National Regatta! The regatta was hosted by
Edgewater Yacht Club
on beautiful Lake Erie -- the "north coast" of Ohio. It was such an amazing experience, and it included my most favorite sailing moments EVER to date. I'm sure that I can't possibly do it all justice in writing, but I'll try.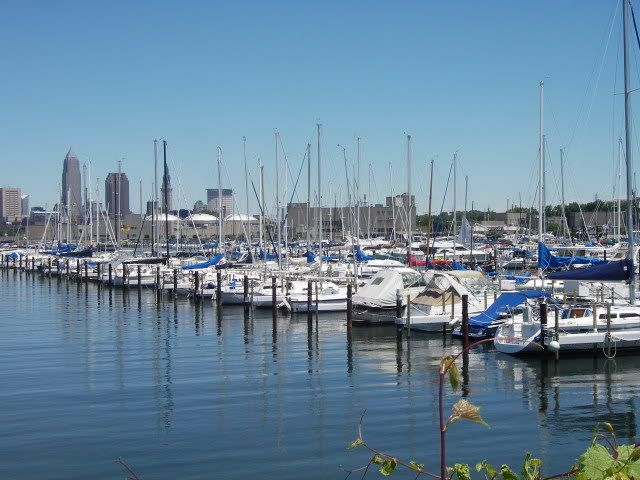 Edgewater Yacht Club


I left Columbus after work on Thursday and arrived at the Lake at 10 PM or so. Ben and Kelly were there to greet me at the security guard booth at the entrance to EYC. (Ben and Kelly are such excellent hosts!) We hauled my stuff from the car to Adventurous and called it a night. I spent my first night sleeping on a sailboat! I slept in the v-berth, the triangle-shaped berth (bed) at the bow (front) of the boat, and it was super-comfy! I slept like a baby. It was great.

We kind of putzed around most of Friday doing this and that, and mentally preparing for the race that evening. Ben and Kelly had already competed in their first race on 'the big lake' the night before, so they were old pros already. And, they had programmed the GPS coordinates of each of the race marks into their handheld GPS so that we wouldn't need to follow any other boats in order to stay on course, as they did on Thursday night. At Friday night's race, the other boats would be following us! Arrrrr!


I'd be fibbing if I told you that I wasn't a little nervous heading out onto Lake Erie for the first time. It was a pretty bumpy ride motoring out to the starting line, but it wasn't too bad. What a sight to see so many the 'boat butts' motoring out in front of us, like a huge parade! The view of the Cleveland skyline was a beautiful sight too. (I know. Cleveland? Who knew?! heh heh heh)


Before long, though, it was time to get down to 'bidness', put on our game faces (and PFDs!), and get into 'race mode.' Yeah!!
The wind was fairy light for the first part of the race, so this big-water rookie had the opportunity to somewhat 'ease into' racing on Erie. As the sun set, though, the wind picked up big time! We were headed towards the largest race mark, the City of Cleveland "Intake Crib," on port tack, over on our ear with the sky continuing to darken and the breeze continuing to freshen. "AWESOME!!!" doesn't even begin to cover it!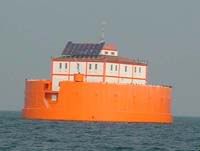 loomed
over us as we approached it. It's so BIG up close, and the
"ping"
sound was so loud! At the perfect moment after we left the Crib to port, Ben called "jybe ho" and very smoothly sheeted in the main to the centerline of the boat. I let go the jib when she back-winded, and Kelly trimmed her in on the other side.
Adventurous
paused for just a moment, like a jet plane pauses at the start of the runway before the pilot throttles up for takeoff... and then the precious wind filled her sails and away we went, sailing downhill. I don't think I will ever forget that jybe - EVER. It was a thing of beauty. I've never felt so
alive
and so
thankful.
The race course had been shortened, so we had actually finished the race when we rounded the mark, so we were 'off duty' as we sailed downwind. We stopped competing and started celebrating. Sailing in the dark was so cool! Ben gave me the helm for a few minutes -- woohoo!!
So what do you do when you're sailing home in the dark on Lake Erie after a GREAT race with the best friends and sailing buddies a girl could have? Why, you sing Beatles songs... at the top of your lungs... and you also "laugh your fool head off" as my Appalachian brethren like to say. Partial list of songs sung:
Rocky Raccoon
(hilariously fun! and Ben can sing every single word!),
Octopus'Garden
, and
With a Little Help from my Friends
. Good times.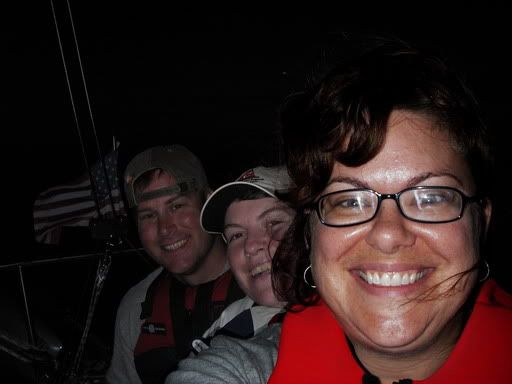 This may in fact be the single most unattractive photo of me that exists in this world...
but we're sailing in the dark here, and that is SO COOL!


Ben and Kelly expertly found our way to and through the channel back to our slip at EYC. We had some chili and a Corona at the post-race party, followed by a great night's sleep. It was the perfect conclusion to a perfect, memorable day.